Discordia Kalika
Name: Discordia Kalika
Birthday: August 12
Age: 26
Gender: Female
Species: Nemesite; born in Rhamnousia, Lancia, Nemesis
Hair: White; hangs to her shoulder blades
Eyes: Gold
Complexion: Dark brown; can get darker with exposure to sunlight
Height: 5'11"
Build: Curvy; looks very well proportioned
Other: Elongated and pointed ears; dragon-like tail with silver underneath
Family: Mother (Caoilfhinn Taidha, 58), father (Gellion, 65), older sisters (Mairead, 35; Damhnait, 32; Endellion, 31), older brother (Bèacan, 28), twin sister (Malise, 26)
Occupation: Pirate captain
Discordia is a shewed and ruthless young lady who wants nothing more than to make her mark on the universe and make people suffer. She was largely ignored growing up, and she decided early on that she wanted to make a name for herself. She delights in watching the misery of others, and there are very few people that she respects and trusts. Most people find it strange that she does, in fact, have a healthy respect for her siblings and parents given her nature. She is very quick to anger, espeically when she does not immeidately get her way.
Alpha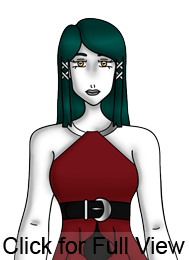 Name: Alpha
Birthday: unknown
Age: unknown
Gender: Female
Species: Thanatian
Hair: Dark teal; hangs straight to just below her shoulders
Eyes: Gold
Complexion: White; lacks any sort of pigment
Height: 5'2"
Build: Chubby; has a bit of baby fat
Other: None
Family: Mother (unknown), father (unknown), twin sister (Omega)
Occupation: Pirate commander
Alpha is a malicious being who struggles to be as cunning as her sister.  She falls short constantly, despite her efforts, and finds herself seeking guidance more than she'd like to admit.  She perhaps delights in the suffering of others, although she does enjoy seeing their plans unfold.  Like her sister, she enjoys watching relationships form and dissolve, but it's the mere act that fascinated her more than anything.  Due to the nature of her struggle, she becomes easily frustrated, and has a short fuse thanks to the fact.
Malise Kalika
Name: Malise Kalika
Birthday: August 12
Age: 26
Gender: Female
Species: Nemesite; born in Rhamnousia, Lancia, Nemesis
Hair: White; hangs to just above her shoulder and flips out
Eyes: Green
Complexion: Dark brown; can get darker with exposure to sunlight
Height: 5'9"
Build: Average; doesn't have much fat on her
Other: Elongated and pointed ears; dragon-like tail with silver underneath
Family: Mother (Caoilfhinn Taidha, 58), father (Gellion, 65), older sisters (Mairead, 35; Damhnait, 32; Endellion, 31), older brother (Bèacan, 28), twin sister (Discordia, 26)
Occupation: Pirate
Malise is a shy and self-conscious young lady who is completely unsure of herself and her decisions. She knows she doesn't fit the standard of what her species is, and is worried what that means for her future. She is actually kind and willing to make friends, but most of her people shun her, and everyone else is scared of her. She doesn't exactly understand this, and wonders constantly what she has to do to actually make people like her. She is very slow to anger, never wanted to upset anyone, and most people say she has no opinions of her own.
Strife Achlys
Name: Strife Achlys
Birthday: August 7
Age: 25
Gender: Male
Species: Nemesite; born in Eris City; Plutia, Nemesis
Hair: White; shaved on both sides
Eyes: Blue
Complexion: Black; doesn't seem effected by exposure to sunlight
Height: 5'7"
Build: Scrawny; doesn't have much muscles
Other: Elongated and pointed ears; dragon-like tail with bronze underneath
Family: Mother (Ademia, 54), father (unknown), older brother (Loki, 28)
Occupation: Pirate engineer
Strife is a kind and friendly young man who seeks knowledge rather than conquest. He's spent most of his life being bullied by others thanks to his weak nature, yet he remains optimistic that his future is bright. He knows that he can't actually get far in life due to the fact that no one actually trusts his people, but he still hopes to change people's perception of himself. He tries to remain friendly despite prejudices to help with this goal. He doesn't get angry often, figuring there's never any point in him trying to defend himself.