Lola Davis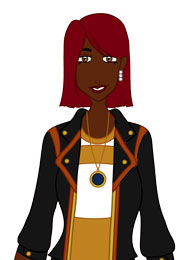 Full Name: Lola Elizabeth Davis
Birthday: June 21
Age: 26
Gender: Female
Origins: Born and raised in New Lonsdale
Hair: Black; hangs to her shoulders and dyed bright red
Eyes: Brown
Complexion: Dark brown
Height: 5'3"
Build: Average; is a little on the chubbier side
Other: One hole in each ear
Family: Mother (Lakeshia, 50), father (Andre, 49), younger brother (Deshawn, 23)
Occupation: Investigative reporter at the New Lonsdale Gazette
Lola is an ambitious young lady who wants to prove herself the best. She is very good at what she does, but finds herself pushed down constantly because she believes in traditional reporting. She believes a good many people are beneath her, and she doesn't hesitate to voice her opinions on most matters. However, she has a soft spot for the underdog, and she believes that kindness does go a long way. She is very easy to anger, but she mostly just complains about things.
John Wu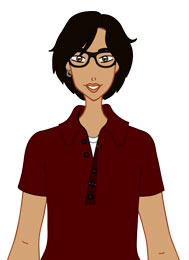 Full Name: John Martin Wu
Birthday: April 30
Age: 23
Gender: Male
Origins: Born and raised in Whitehall
Hair: Dark brown; worn on the saggy side
Eyes: Brown
Complexion: Orcher
Height: 5'9"
Build: Scrawny; doesn't have much muscle mass
Other: One hole on right ear; black framed glasses
Family: Mother (Mei, 50), father (Kenneth, 50), older brother (Frank, 27), twin sister (Diana, 23)
Occupation: Photographer at New Lonsdale Gazette
John is an energetic young man who is striving to make a name for himself. At the very least, he wants to have a lot of friends who respect him. He throws himself into his work, and strives to do the best that he can. Fortunately for him, he is, in fact, quite talented, enough that he can pretty much do anything that he puts his mind to. He is friendly almost to a fault, and tends to be very trusting. He gets annoyed more than he gets straight up angry.
Darcy Adams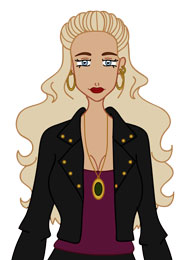 Full Name: Darcy Rebecca Adams
Birthday: July 18
Age: 26
Gender: Female
Origins: Born and raised in New Lonsdale
Hair: Platinum blond; hangs to her lower back and is slightly wavy
Eyes: Blue
Complexion: Tan; works hard to maintain her color
Height: 5'8"
Build: Curvy; has a perfect hourglass shape
Other: Two holes in each ear
Family: Mother (Jessica, 54), father (Robert, 57), younger sister (Madison, 20)
Occupation: Freelance blog reporter
Darcy is a very driven young lady who knows how to get results. Sometimes her methods are deemed a bit questionable by some, but she doesn't allow that to stop her progress. She likes being the center of attention, and tends to strive to stay in it regardless of what she has to do. She is very charismatic, so this doesn't pose a problem for her, unless someone picks up on her true nature. She tends to get annoyed and angry when things don't go the way she plans.